This topic covers some basic view and search features of the specimen repository system that are available to researchers who have read access to the data.You can try these features either on the
interactive example
on labkey.org or on a local server where you have
installed the sample study
.
Explore Specimen Repository Data
A study folder has a
Specimen Data
tab containing two default web parts:
Vial Search: A web part for selecting specific specimens of interest.
Specimens: This web part contains links to view all specimens by vial or group as well as a number of predefined groupings.
Vial Groupings
The specimen repository automatically groups together aliquots/vials into one specimen, using the following fields. When two aliquots/vials have identical values in the following fields, the system groups them together as the same specimen.
Participant Id
Sequence Number
Draw Timestamp
Draw Date
Draw Time
Originating Location - shown as "Clinic" in grid views
Processing Location
First Processed By (Initials)
Sal Receipt Date
Class Id
Protocol Number
Volume Units
Derivative Type
Subadditive Derivative
Note that the Freezer field is not on the list above. Freezer location plays no part in determining how aliquots are grouped. This means that is possible for vials in different freezers to be grouped together under the same specimen.
Search for Specimens
The
Vial Search
web part offers many options for searching for specific specimens of interest. For example the following image shows a search request for all blood specimens from participant 249318596.
See similar search results in the interactive example
.If you would like to add a vial search web part to a page that does not already contain one, select
Specimen Search
from the
Add Web Part
pulldown in the lower left under existing web parts.
View Selected Specimens
Navigate to a study home page on your own server, or open this page in a new browser window.
Click the Specimen Data tab.
In the Specimens web part, pictured below, expand the Vials By Primary Type and Vials by Derivative Type sections as shown. Click the + button to the left of an item to expand it.
Click By Vial Group under View All Specimens for a view of data to explore, similar to this:
As in other grid views, you can sort or filter the data using the pulldown menus on any column, search for specimens of interest, and create charts and reports from the data for analysis and sharing.
Specimen Vial History
Events and flags that occur with each specimen data row, such as requests or updates, are tracked and recorded. You will only be able to see the history if you have enabled the advanced specimen repository. To enable it, click the
Manage
tab and then
Change Repository Type
. Choose the option
Advanced (External) Specimen Repository
.
Open any individual vial view from the Specimens web part, or click the Show Individual Vials link at the top of a group view.
Click History on any vial to view a summary and history including relevant requests if any.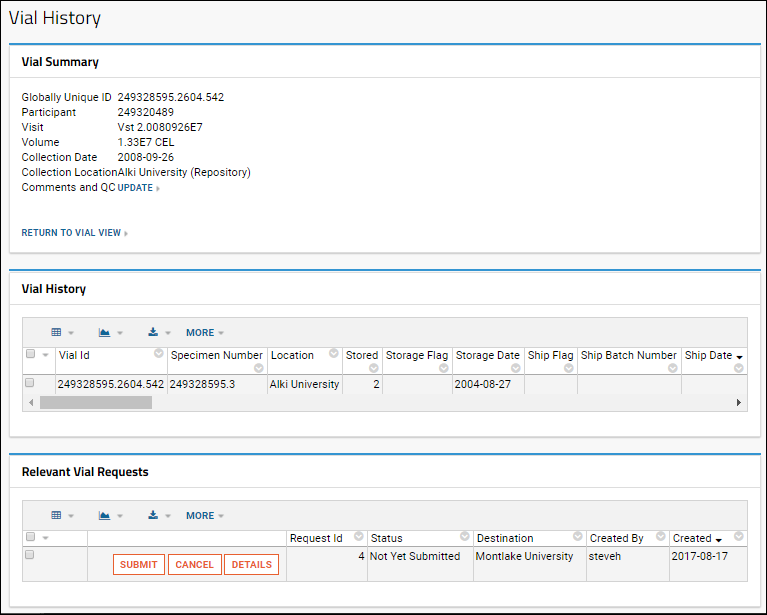 Related Topics