This topic describes how to navigate grids of data in LabKey Sample Manager, and how to filter, search, and sort your data.
Sample Grid Menus
Sample grid menus highlight the most common sample actions and group them by category:
Add:
Edit:
Derive:
Assay:
Picklists:
Jobs:
Storage:
When the browser window is narrower, the secondary menus will be collapsed into a
More
menu with sections for each category, and the filter and search widgets may move to a second line:

Select Rows
In LabKey Sample Manager, data is shown in grids, with a column of checkboxes on the left for selecting each individual row. Check the box in the header row to select all rows on the
current page
.Once you've selected a page of rows, you will see buttons to select all the rows, or clear those already checked.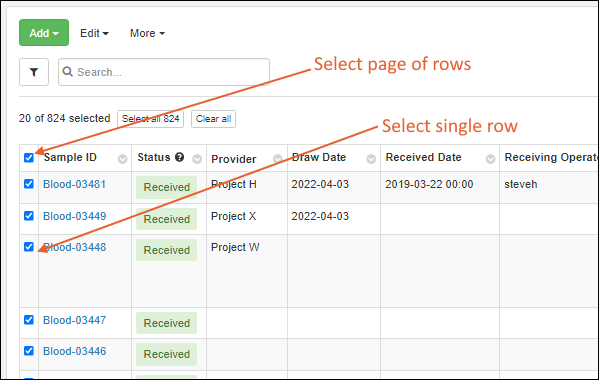 Page Through Data
Large sets of data are displayed on a paged grid. In the upper right, you see which rows you are viewing (here 1-20 of 824). Buttons give you the following control:
and : Step one page forward or back.

The page number you are on is shown with a dropdown menu.

You can jump to the first page or last page and see a count for the total number of pages.
You can also change the pagination. Options for number of rows per page: 20, 40, 100, 250, 400.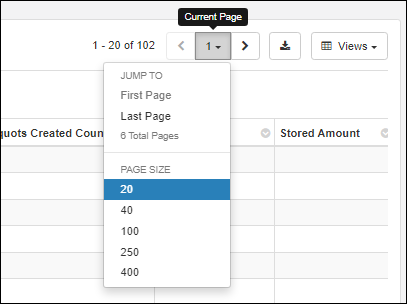 Filter
Use the
Filter
option on any column header menu, or click the
button above the grid to open the filter panel.

Select the column you want to filter on the left, then for any column, you can select one or two filtering expressions on the
Filter
tab. If your first filtering expression cannot be further filtered (such as "Is Blank") you will not see the second filter option.
For columns with a limited set of values, you can use checkboxes on the
Choose Values
tab to select the desired values.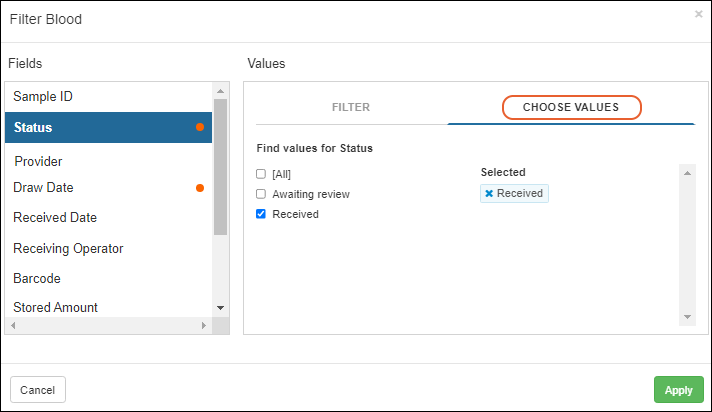 You'll see a filter icon in the header when a column filter is applied, as well as a "lozenge" for each filter above the grid. When you hover over a lozenge, the filter icon will become an X you can click to delete that filter. Click
Remove all
to remove all the filters.

Sort by Column Value
In each header, click the
to sort the grid by the values in that column. Select either ascending or descending sort.
Once you have sorted a column, an indicator icon ( or ) will be added to the column header.
Search Grid
Enter your search terms in the
Search
box above the grid to search the text fields in the grid. Click the X to clear the search terms.

Export Data
To export the data in the grid, click the
(Export)
button and select the format for export:

Notice the menu indicates whether you are exporting rows you have selected or the entire grid. To export the full grid, select no rows.
Related Topics