Once ontologies have been loaded and enabled in your folder, you can use
Concept Annotations
to link fields in your data with their concepts in the ontology vocabulary. A "concept picker" interface makes it easy for users to find desired annotations.
Browse Concepts
Reach the grid of ontologies available by selecting
(Admin) > Go To Module > More Modules > Ontology
.
Click Browse Concepts below the grid to see the concepts, codes, and synonyms loaded for any ontology.
On the next page, select the ontology to browse.

Note that you can shortcut this step by viewing ontologies in the "Shared" project, then clicking Browse for a specific row in the grid.

Type into the search bar to immediately locate terms. See details below.
Scroll to find terms of interest, click to expand them.
Details about the selected item on the left are shown to the right.

The Code is in a shaded box, including the ontology prefix.
Any Synonyms will be listed below.

Click Show Path or the Path Information tab to see the hierarchy of concepts that lead to the selection. See details below
Search Concepts
Instead of manually scrolling and expanding the ontology hierarchy, you can type into the search box to immediately locate and jump to concepts containing that term. The search is specific to the current ontology; you will not see results from other ontologies.
As soon as you have typed a term of at least three characters, the search results will populate in a clickable dropdown. Only full word matches are included. You'll see both concepts and their codes. Click to see the details for any search result. Note that search results will disappear if you move the cursor (focus) outside the search box, but will return when you focus there again.Search terms will not autocomplete any suggestions as you type or detect any 'stem' words, i.e. searching for "foot" will not find "feet".
Path Information
When you click
Show Path
you will see the hierarchy that leads to your current selection.
Click the
Path Information
for a more complete picture of the same concept, including any
Alternate Paths
that may exist to the selection.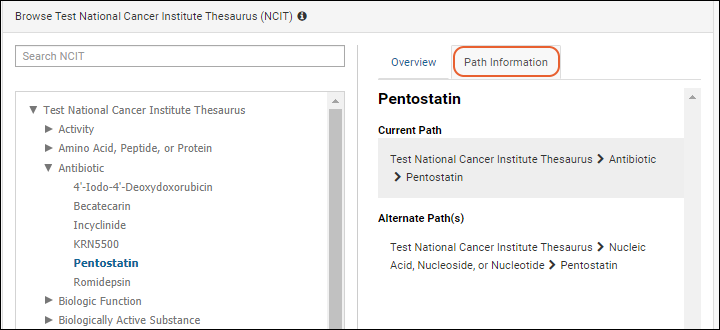 Add Concept Annotation
Open the field editor where you want to use concept annotations. This might mean editing the design of a list or the definition of a dataset.
Expand the field using the icon.
Under Name and Linking Options, click Select Concept.
In the popup, select the ontology to use. If only one is loaded, you will skip this step.
In the popup, browse the ontology to find the concept to use.
Click Apply.
You'll see the concept annotation setting in the field details.
View Concept Annotations
In the data grid, hovering over a column header will now show the
Concept Annotation
set for this field.

Edit Concept Annotation
To change the concept annotation for a field, reopen the field in the field editor, click
Concept Annotation
, make a different selection, and click
Apply
.
Related Topics