This topic covers how to load
ontology vocabularies
onto your server and enable their use in individual folders. It assumes you have obtained or
generated an ontology archive
in the expected format. You also must have the
ontology
module deployed on your server.
Load Ontologies
One or more ontology vocabularies can be loaded onto your server. Ontologies are stored in the "Shared" folder where they are accessible site-wide. You may load ontologies from any location on the server.
Select (Admin) > Go To Module > More Modules > Ontology.
You will see any ontologies already loaded.
Click Add LabKey Archive (.Zip) to add a new one.
Enter:

Name: (Required)
Abbreviation: (Required) This should be a short unique string used to identify this ontology. This value can't be changed later.
Description: (Optional)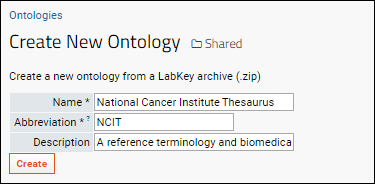 Click Create.
On the next page, use Browse or Choose File to locate your archive.

Ontology zip archives include the files: concepts.txt, hierarchy.txt, synonyms.txt
You will see the pipeline task status as the ontology is loaded. Depending on the size of the archive, this could take considerable time, and will continue in the background if you navigate away from this page.Once the upload is complete, return to
(Admin) > Go To Module > Ontology
(you may need to click "More Modules" to find it).
Manage Ontologies
In the Ontologies module in the
/Shared
project, you will see all available ontologies on the list.
Concept Annotations
Enable Ontologies in Folders
To use the controlled vocabularies in your data, enable the Ontology module in the folders where you want to be able to use them.
Navigate to the container where you want to use the ontology.
Select (Admin) > Folder > Management and click the Folder Type tab.
Check the box to enable the Ontology module.
Click Update Folder.
Related Topics