Attaching an image, document, picture, or other file to a data structure can help place key information where it is needed most. This topic describes how to include and work with files and attachments in Sample Manager.
Add File Field (Admin)
An administrator must add the field to the data structure. In Sample Types, the field is of type "File" and in Source Types, the field is of type "Attachment". In this example, the field is included in a Sample Type and named "Image".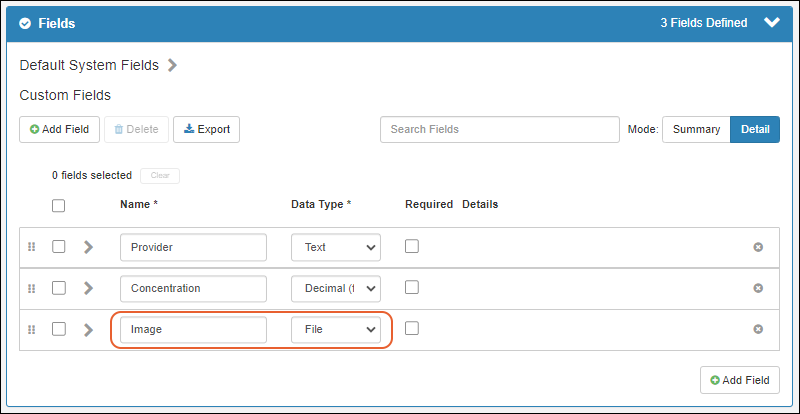 Learn more about the properties of these fields here:
Field Properties Reference
Upload File (Editor)
Now by editing the
Details
for any sample in the system, you will be able to upload a file by either clicking in the selection window or dragging and dropping from your desktop. Click the sample name on any grid to open the Overvie
Click
Save
to save this change.
View Thumbnails and Expand Images (Reader)
A small thumbnail and the filename will be shown in the details panel and in the column of sample grids. Click the thumbnail or filename to open the image in a larger window.
Download File (Reader)
To download the file, select
Download
from the
menu.

Remove or Change the File (Editor)
To change the attached file, reopen the sample details, click
to open the
Details
panel editor and select
Remove file
from the
menu. This option is only available in edit mode.
Once the 'old' file has been removed, you will be able to upload a new file. Note that you may need to refresh your browser window to update the image shown, as the original image may have been cached.
Related Topics