The home page of the Sample Manager application offers a summary dashboard for getting a quick overview of your project.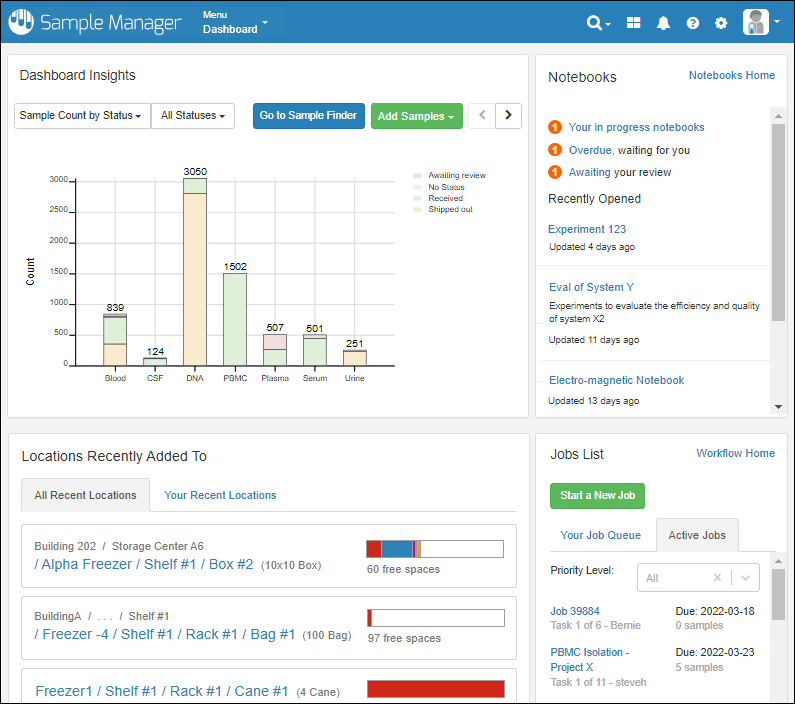 Note that on narrower screens, the panels of the dashboard will be stacked vertically in the following order instead of being arranged as shown above.
Jobs
At a glance, see the jobs and tasks assigned to you in
Your Queue
. A second tab will show you other
Active Jobs
. Learn more about jobs and workflow in this section:
Dashboard Insights
See the current status of the system, with several display options. By default, you see the total count of samples of each Sample Type, shaded by the
label color
you assign.Select from the leftmost dropdown to show:
Sample Count by Sample Type (the default)
Assay Run Count by Assay.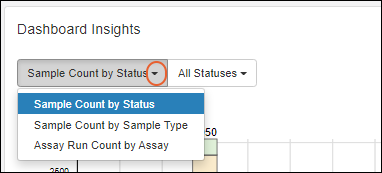 The next menu lets you control the timeframe over which the count of samples or assays is determined (it is not available for the sample status chart). Options:
All
In the Last Year
In the Last Month
In the Last Week
Today
Use the
< and >
buttons to step back and forth through the timeframe options.Learn more about samples in this section:
Recent Assay Data
See the recently uploaded assay data. By default you will see runs from all assays, but you can use the dropdown menu to select any assay defined in the system and see those recent runs. Learn more about assays in this topic:
Related Topics