This topic is under construction for the 21.7 (July 2021) release of LabKey Server. For current documentation of this feature, click here.
LabKey offers several products, all of which may be integrated on a single Premium Edition of LabKey Server. When more than one
application
is installed on your server, you can use the
menu to switch between them. This menu is container specific, so you will only see applications available in the project where you access the menu.
Use the Product Selection Menu
Click the name of the desired application to open a submenu for selecting a specific destination application within it.
LabKey Server
When you select
LabKey Server
from the
menu, you will be able to select among:
: LabKey Home project
: The current folder
All tabs defined in the current folder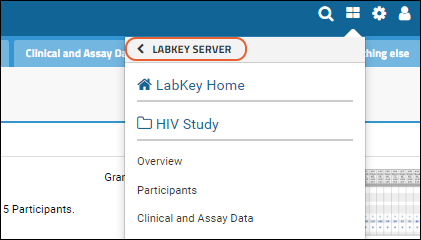 Biologics
When you select the
Biologics
application from the
menu, you will be able to select among the main menu categories for Biologics within the project:
Dashboard
Registry
Sample Types
Assays
Workflow
Media
Notebooks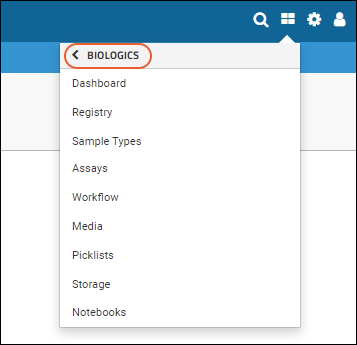 Sample Manager
When you select the
Sample Manager
application from the
menu, you will choose one of the main menu categories for Sample Manager:
Dashboard
Source Types
Sample Types
Assays
Storage
Workflow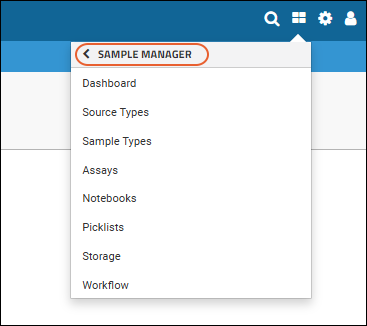 Visibility of the Product Selection Menu
Administrators will see an option to manage the visibility of the product selection menu for their users.Click
Menu Settings
, then use the radio buttons in the
Show Application Selection Menu
section. Options:
Always
Only for Administrators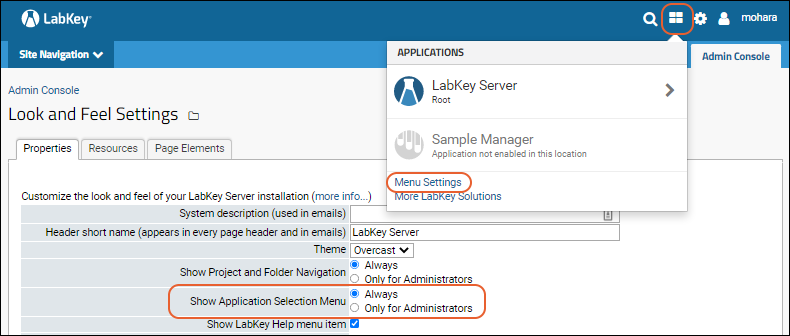 Related Topics