This topic is under construction for the 23.11 (November 2023) release of LabKey Biologics LIMS. For the previous version of this documentation, click here.
When administrators add charts or other visualizations in LabKey Server, they are surfaced above the corresponding data grid in the LabKey Biologics application. Charts are also available in this way within Sample Manager when using with a Premium Edition of LabKey Server.
Charts
If
charts are added to a data grid using the LabKey Server interface
, then they will be made available on the same data grid in the Biologics application. When charts are available, you'll see the
Charts
button above the grid.Selecting a chart will render it above the grid as shown here.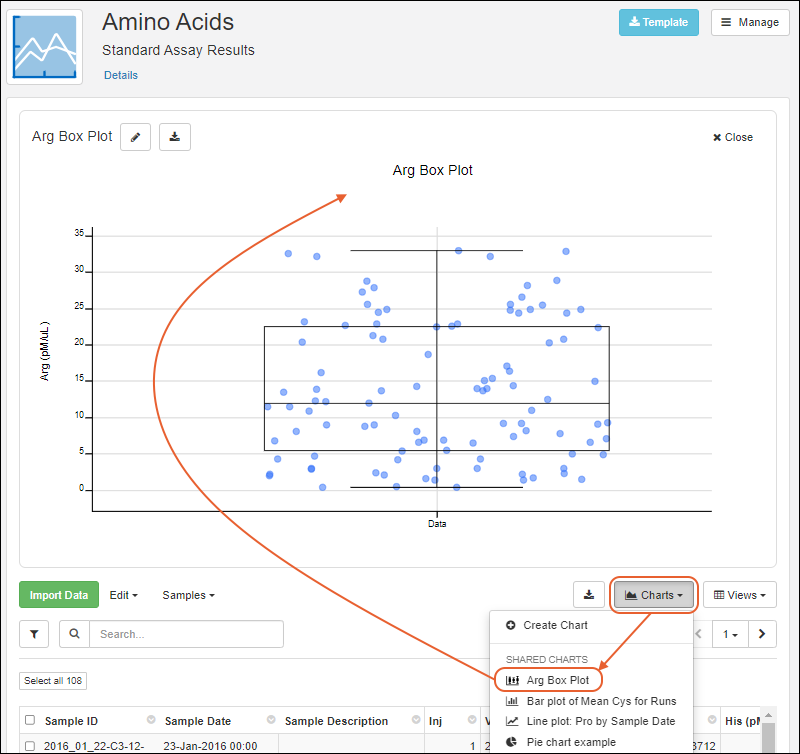 Add a Chart
Administrators can add visualizations using the standard mechanisms in LabKey Server.
To add a chart, first switch to LabKey Server by selecting > LabKey Server > [Name of your Biologics project].
Navigate to the appropriate table. (For example, if you wish to visualize Cell Viability results, navigate to the Cell Viability assay, and then click View Results.)
To create the chart, click > Create Chart. Create and save the chart.
Go to the corresponding data grid in LabKey Biologics (i.e. the Cell Viability assay > Results tab).
Click the Charts button to see your visualization listed. Select it to view.
For details on creating charts in LabKey Server, see
Visualizations
.
Related Topics