Overview
LabKey Server helps researchers automate high-volume flow cytometry analyses, integrate the results with many kinds of biomedical research data, and securely share both data and analyses. The system is designed to manage large data sets from standardized assays that span many instrument runs and share a common gating strategy. It enables quality control and statistical positivity analysis over data sets that are too large to manage effectively using PC-based solutions.LabKey's
online data environment
lets you:
manage workflows and quality control in a centralized repository
export results to Excel or PDF
securely share any data subset
build sophisticated queries and reports
integrate with other experimental data and clinical data
LabKey Server supports the import of flow data from popular flow analysis tools, including R, FlowJo, and FCS Express.
Topics
Get Started
FlowJo
To begin using LabKey with FlowJo, an investigator first defines a gate template for an entire study using
FlowJo
, and uploads the FlowJo workspace to the LabKey Server. He or she then points LabKey Flow to a repository of FCS files.Once the data has been imported, LabKey Server starts an analysis, computes the compensation matrix, applies gates, calculates statistics, and generates graphs. Results are stored in a relational database and displayed using secure, interactive web pages.Researchers can define custom queries and views to analyze large result sets. Gate templates can be modified, and new analyses can be run and compared.
To get started, see the introductory flow tutorial:
Tutorial: Import a Flow Workspace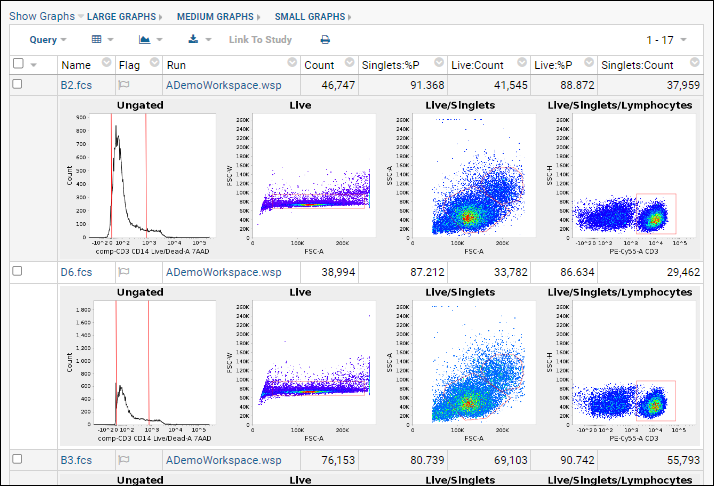 FCS Express
To begin using
FCS Express
, an investigator first defines a new FCS Express assay design, and then imports data into that assay design. Once the files have been uploaded, you can take advantage of the LabKey data environment and quality control and workflow tools, including:
assay progress reports
assay status and quality control reports
rich contextual data and metadata capture
To get started, see the FCS Express tutorial:
Tutorial: Import Flow Data from FCS Express