To generate a flow quality control report:
Click the My Flow Tutorial link to return to the main folder page.
Enter > Page Admin Mode.
Add the web part: Flow Reports using the "<Select Web Part>"
Click Exit Admin Mode at the top of the page.
Click Create QC Report in the new Flow Reports web part.
Provide a Name for the report, and select a Statistic.
Choose whether to report on Count or Frequency of Parent.
In the Filters box, you can filter the report by keyword, sample, and/or statistic value.
Click Save.
The Flow Reports panel will list your report.
Click the name to see the content. Use the manage link for the report to edit, copy, delete, or execute it.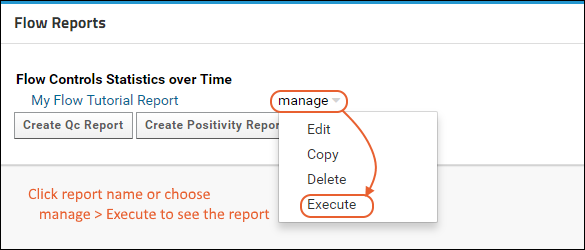 The report displays results over time, and includes a Levey-Jennings plot with standard deviation guide marks. TSV format output is shown below the plots.