This topic explains how administrators can:
Define new QC states to be assigned to dataset records.
Control the visibility of records based on QC state.
Once an administrator has defined QC states for a study's datasets, the user interface is activated in the following ways:
Data grids display the QC State menu to Readers and Editors.
Data grids can be filtered based on QC state.
Editors can update the QC state of dataset records.
Data imported to the study can be automatically marked with particular QC states depending on the method of data import.
Set Up Dataset QC
In a study folder, select the Manage tab.
Click Manage Dataset QC States.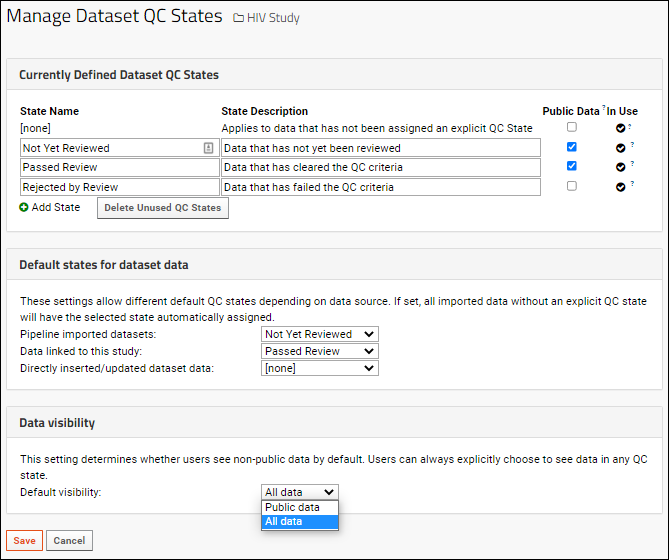 Currently Defined QC States
. Define any number of QC states and chose the default visibility for these categories by using the
Public Data
checkbox. When a QC state is not marked public, data in this state will be hidden if the
Dataset visibility
option is set to "Public Data". This list of QC states also includes any
Assay QC states
defined in the same folder.
Default states for study data
. These settings allow different default QC states depending on data source. If set, all imported data without an explicit QC state will have the selected state automatically assigned. You can set QC states for the following:
Pipeline-imported datasets
Assay data copied to this study
Directly inserted/updated dataset data
Data visibility
. This setting determines whether users see non-public data by default. Readers can always explicitly choose to see data in any QC state.
The default setting is "All data", i.e., all records regardless of QC state will be initially displayed.
Datasets that have been incorporated into your study before you set up QC states will have the QC state 'none'.
Add QC Columns to a Dataset
This section explains how to add QC columns to a dataset, similar to the following:
See a live version of this dataset in the
online example study
.To add QC states to a dataset, pull in columns from the core.QCStates table:
Navigate to the dataset.
Select (Grid views) > Customize Grid.
Under Available Fields, place a checkmark next to the QC State.
Click Save and save the grid as either the default view or as a named view.
To add color formatting to the dashboard, add conditional formatting to the QCStates table:
Go to > Go To Module > Query.
Open the core schema and select QCStates.
Click Edit Metadata.
Select the Label field and click the Format tab.
Add conditions for each of your QC states, and corresponding colors.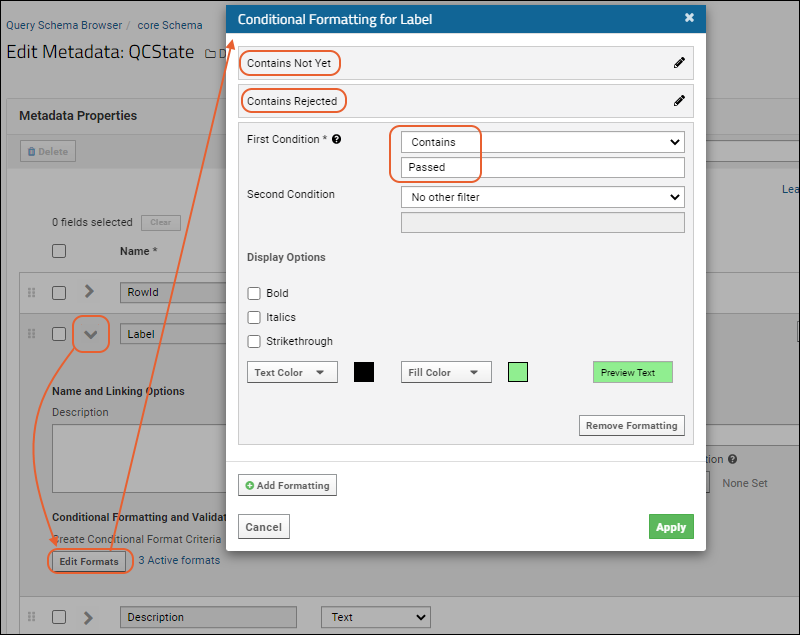 Related Topics