Site Groups allow site admins to define and edit site-wide groups of users. Site groups have no default permissions but are visible to every project and may be assigned project-level permissions as a group.The server has built-in site groups described here:
Global Groups
.
Create a Site Group and Manage Membership
View current site groups by selecting
Admin > Site > Site Groups
:
Create a new group.
Enter the name of the new group, then click the
Create new group
button. You may add users or groups and define permissions, then click
Done
.
Manage a group.
Users can also be added and deleted from a group by clicking on the group name to view a pop-up dialog box.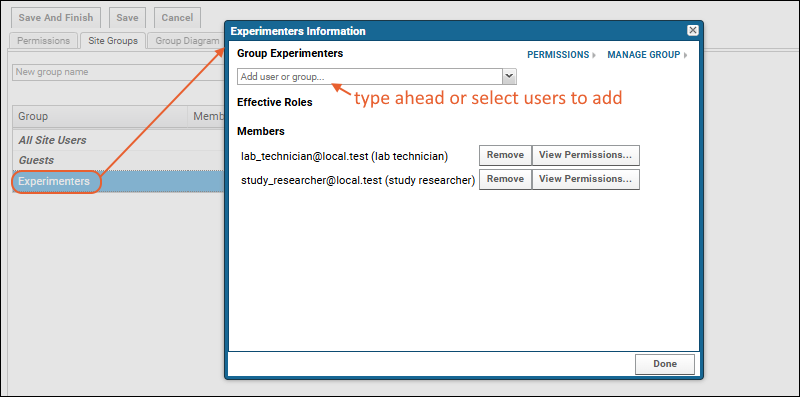 Add a single user or group using the pulldown at the top right.
Remove a user from the group by clicking the [remove] button.
View an individual's permissions via the [permissions] link next to his/her email address.
Manage permissions for the group as a whole by clicking the Permissions > link at the top of the pop-up dialog box.
The Manage Groups > link allows you to add or remove users in bulk as well as send a customized notification message to newly added users.
Grant Project-Level Permissions to a Site Group
To set project-level permissions to Site Groups (including the built-in groups
Guests
and
All site users
), select
Admin > Folder > Permissions
from the project or folder. See
Configure Permissions
for more information.