Keywords imported from FlowJo can be used to link samples and provide metadata. This topic describes how you can edit the values assigned to those keywords and also add additional keywords within LabKey to store additional information.
Edit FCS Keyword Input Values
You can edit keyword input values either individually or in bulk.
To edit existing FCS keywords, go to the FCS Files table and select one or more rows. Any changes made will be applied to all the selected rows.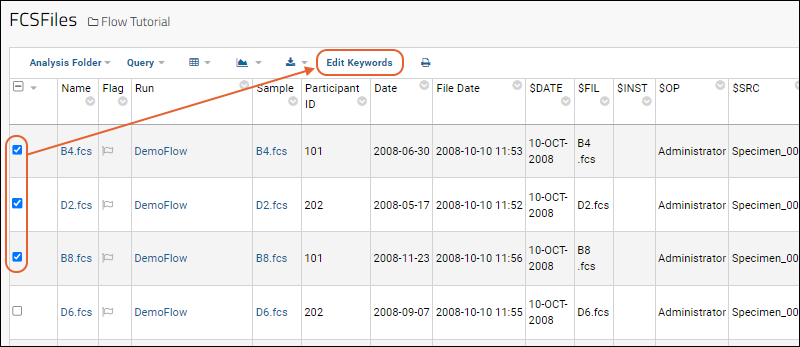 Enter the new values for desired keywords in the blank text boxes provided.

The FCS files to be changed are listed next to Selected Files.
Existing values are not shown in the input form. Instead, a blank form is shown, even for keywords that have non-blank values.

Click Update to submit the new values.

If multiple FCS files are selected, the changes will be applied to them all.
If an input value is left blank, no change will be made to the existing value(s) of that keyword for the selected rows.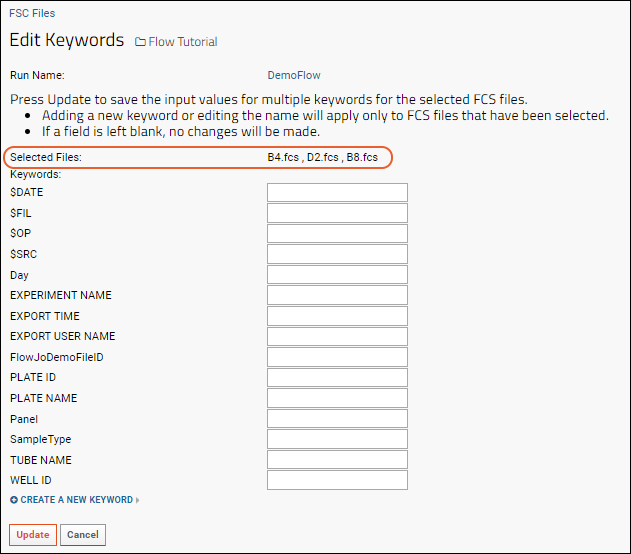 Add Keywords and Set Values
To add a new keyword, click Create a New Keyword
Enter the name of the keyword and a value for the selected rows. Both keyword and value are required.

Note that if you want to add a new keyword for all rows, but set different values, you would perform multiple rounds of edits. First select all rows to add the new keyword, providing a default/common temporary value for all rows. Then select the subsets of rows with other values for that keyword and set a new value.
Display Keyword Values
New keywords are not always automatically shown in the data grid. To add the new keyword column to the grid:
Select (Grid Views) > Customize Grid.
In the Available Fields panel, open the node Keywords and select the new keyword.
Click View Grid or Save to add it.
Related Topics