Panorama is a web server database application for targeted proteomics assays that integrates into a Skyline proteomics workflow. The LabKey Panorama module supports management of targeted mass spectrometry data and integration with Skyline workflows (SRM-MS, filtering or MS2 based projects).
Panorama Folder Types
To begin working with Panorama, create a new folder, choosing
Panorama
as the folder type. On the
Configure Panorama Folder
page, select one of the available configurations. Each type in this list links to a set of documentation.
Check Rank peptides within proteins by peak area if your data contains relative peptide expression for proteins.
Create New Panorama Folder
Create a new folder. Hover over your project name in the menu bar (On PanoramaWeb, right below the Panorama icon) and click on the New Subfolder icon circled in the image below.
Give the new folder a Name, then select the Panorama option under Folder Type. This is the folder type that should be selected for all workflows supported by Skyline (SRM-MS, MS1 filtering or MS2 based projects).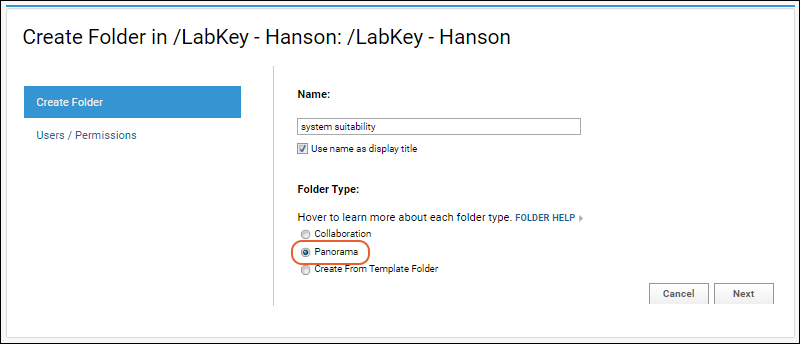 On the Users / Permissions page, select one of the available options and click Next.

You can also change permissions on a folder after it has been created.

The next page, Configure Panorama Folder, asks you to choose the type of Panorama folder you would like to create, detailed above.

Topics for each Panorama Folder Type: