In this step we will examine our data graphs. As you saw in the
previous step
, graphs are selected within the grid customizer but are not shown by default.
Review Graphs
On the My Flow Tutorial page, in the Flow Analyses web part, click Analysis then labkey-demo.xml to return to the grid.
Select Show Graphs > Inline.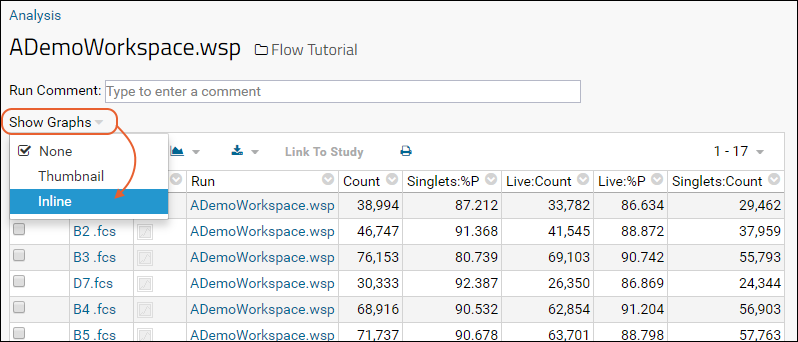 The inline graphs are rendered. Note: for large datasets, it may take some time for all graphs to render. Some metrics may not have graphs.
Note that 3 graph size options are available at the top of the data table. The default is "Medium Graphs".
Click on any graph image to make it pop forward in a larger format.
See thumbnail graphs in columns with other data by selecting Show Graphs > Thumbnail.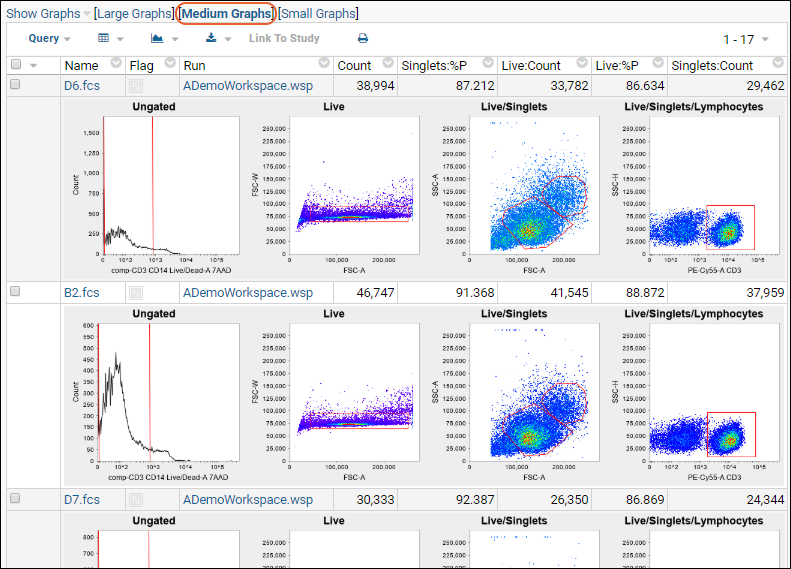 Hide graphs by selecting Show Graphs > None.
See a
similar online example
.
Review Other Visualizations
The following pages provide other views and visualizations of the flow data.
Scroll down to the bottom of the labkey-demo.xml page.
Click Show Compensation to view the compensation matrix. (A similar online example)
Go back to labkey-demo.xml.
Click Experiment Run Graph and then choose the tab Graph Detail View to see a graphical version of the pipeline process. Scroll to the right to see the more interesting part of the graph. See a similar online example here.