Manual Assignment
When documents need to be manually assigned to an abstractor, they appear as tasks for an abstraction administrator.
Task List View
The task list view allows manual assignment of abstractors and reviewers for a given document. To be able to make manual assignments, the user must have "Abstraction Administrator" permission; folder and project administrators also have this permission.Users with the correct roles are eligible to be assignees:
Abstractors: must have both "Document Abstractor" and "Editor" roles.
Reviewers: must have both "Abstraction Reviewer" and "Editor" roles.
It is good practice to create project groups of eligible assignees and granted the appropriate roles to these groups, as described
here
.Each user assigned to an abstraction role can see tasks assigned to them and work through a personalized task list.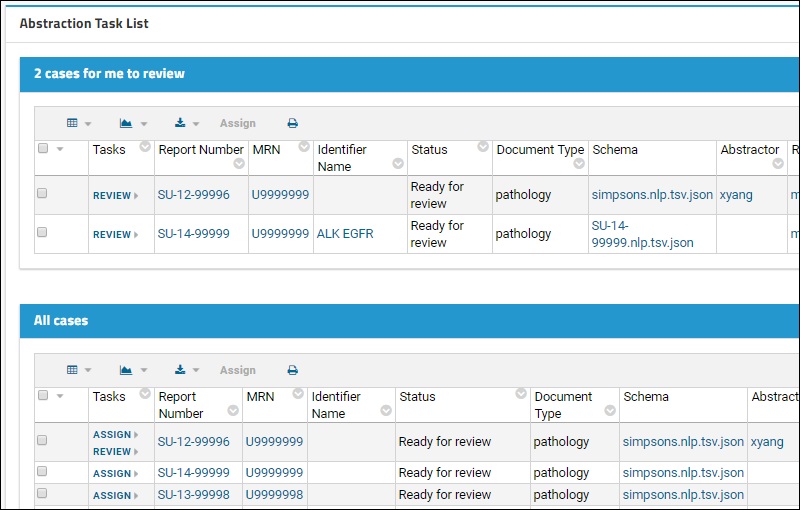 Click
Assign
on the task list.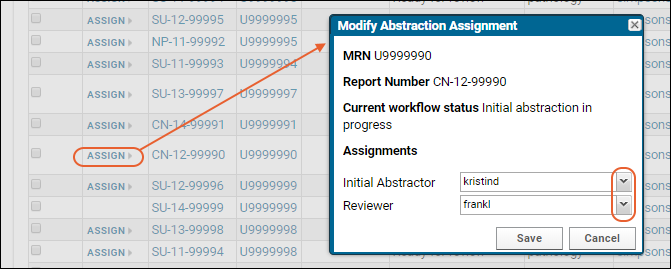 In the popup, the pulldowns will offer the list of users granted the permission necessary to be either abstrators or reviewers. Select to assign one or both tasks. Leaving either pulldown without a selection means that step will be skipped. Click
Save
and the document will disappear from your "to assign" list and move to the pending task list of the next user you assigned.
Reassignment and Unassignment
After assigment, the task is listed in the
All Cases
grid. Here the
Assign
link allows an administrator to change an abstraction or review assignment to another person.If abstraction has not yet begun (i.e. the document is still in the "Ready for initial abstraction" state), the administrator can also
unassign
abstraction by selecting the null row on the assignment pulldown. Doing so will immediately send the document to the review step, or if no reviewer is assigned, the document will be approved and sent on.Once abstraction has begun, the unassign option is no longer available.