This topic is under construction for the 19.3.0 release of LabKey Server. For current documentation of this feature, click here.
A Sample Set is a group of samples accompanied by a suite of properties that describe shared characteristics of all samples in the group. Users must have administrator permissions (the Folder Admin role, or higher) to create new sample sets or edit existing sample set designs.Before you create a new sample set, consider how you will provide unique ids for each sample. For options, see
Samples: Generate Unique IDs
.Decide also where you want the sample set to be available. If you define it in a given folder, it will be available only in that folder. Defined in a project, you will be able to add samples to it from the project itself and all subfolders of that project. If you
define it in the Shared project
, it will be available site-wide.
Create A New Sample Set
Use Page Admin Mode to add a Sample Sets web part if you don't already have one.
In the Sample Sets web part, click (Create New Sample Set).
Enter:

Name: This is the name for the overall sample set. (Not to be confused with the Name column in a sample set, which has special meaning to the server. For details see Samples: Generate Unique IDs.)
Name Expression: Provide a tokenized string that will uniquely identify the samples in the set. If you do not provide a name expression here, the sample set data will need to have a "Name" column that uniquely identifies the rows. Learn more about the options in the topic Samples: Generate Unique IDs.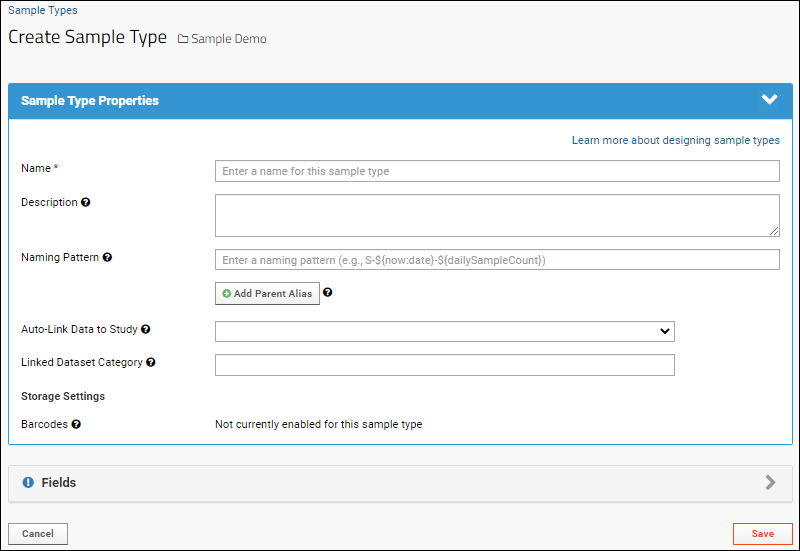 Click Create.
On the next page, you will add fields you need in addition to these automatically included fields (which you cannot change):

Name - Text (String) - (Required)
Description - Text (String)
Flag - Text (String)

Click Add Field to add additional fields you need. Learn more about adding and editing fields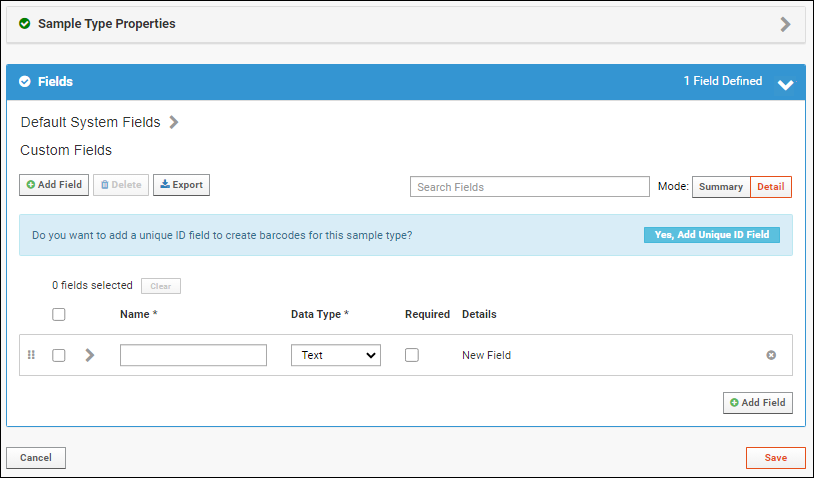 Click Save when finished.
You will now see your sample set listed in the
Sample Sets
web part.
Related Topics